Looking for the best, safest, and most efficient OST to MBOX Converter download? Too bad that it's not an easy choice for most users about which converter to download. Most of them are sloppy and often end up with damaged files with fragmented contents. Today, we bring to you the most efficient, safest, and easiest to use OST to MBOX Converter downloading option you can check out right now for free as a trial version.
OST to MBOX Converter (Windows & Mac)
It's simply titled "OST Extractor Pro," because it holds powerful logic for the extraction of data from OST files. You will feel no stress while using it, thanks to its amazingly user-friendly interface. But more importantly than that, "OST Extractor Pro," from USL Software, brings accuracy and precision for data conversion to the finest level.
If you know or have read about OST to MBOX conversion methods and tools, you'd know that this is a process that not only takes countless hours but also ends up with fragmented files. This means that the output in the form of MBOX files is often fragmented and missing key pieces of information.
Emails of today are more complex than they have ever been. You no longer have emails with just text. You now send emails with attachments, they have metadata and headers, there are also folders and a complex folder hierarchy, embedded graphical and other types of objects within the body of emails, text in other languages that are encoded using double bytes, and more. This sort of intricacy makes it too hard for traditional OST to MBOX converter to extract the information and convert it into proper formats with sufficient precision.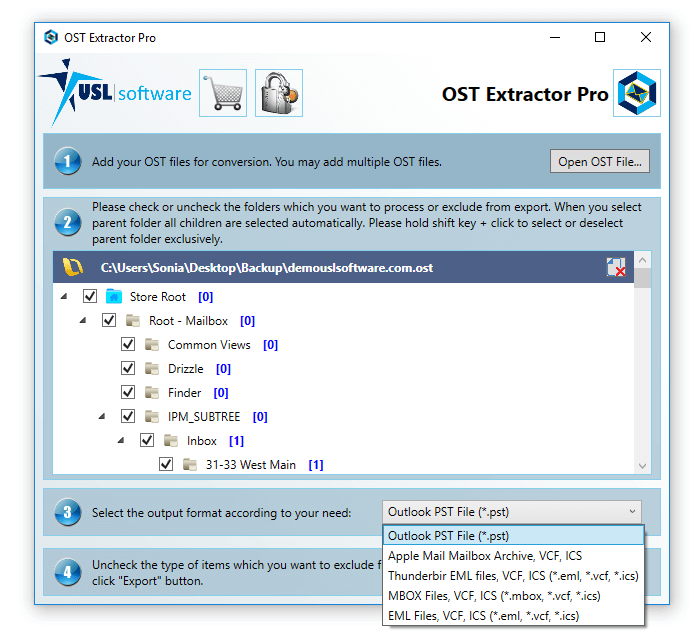 You'd find most of these items and pieces of information corrupted or simply missing from the converted/output MBOX files.
Ultimate Tool to Convert OST to MBOX
That's not a problem with "OST Extractor Pro." USL Software built it with a very strong foundation of modern extraction logic and algorithms that sweep the entire database within files and make sure nothing is modified or lost. You get the exact mirrored copy of your data, just in a different format (which is MBOX in this case).
OST Extractor Pro is designed to convert OST to Thunderbird, Postbox, Apple Mail, Microsoft Outlook (*.pst), MBOX, EML, ICS & VCF file formats.

www.ostextractorpro.com
USL Software is also known for offering sophisticated tools with a simple interface. That's the reason why most of their conversion tools are used in both office and home environments for both large and small scale based migration projects. Whether you are a home user or an IT professional, you can use the tool's advanced features using its user-friendly interface.
There's a minimalistic wizard that you can simply follow at each step and you'll face no problems at all trying to convert the files. Any extra options and functionalities are easy to implement whenever appropriate, so you also get full control and efficiency while going through the process.
Related Readings:
No other OST to MBOX converter gives this level of proficiency for an otherwise tedious and time-consuming process.
It also offers:
Batch conversion of multiple OST files.
Option to convert large OST files
Contacts and calendar conversion to VCF and ICS files respectively
Support for Unicode and DBCS encoded languages (Chinese and Japanese)
Easy to read and analyze change log after the conversion process is over
Around the clock tech support
OST to MBOX Converter Download & Purchase
There are several licenses to choose from – personal, household, commercial, etc. Or, you can go with the free trial version to see it with your own eyes how it works. You can download the setup below, install it within few minutes, and just start using it in a free trial mode. Activate it later whenever you want.
Read More: https://www.ostextractorpro.com/
Get 'OST Extractor Pro' today, if your looking for OST to MBOX Converter.