The OST to PST Converter Freeware Download for your evaluation – Extract Complex Data Extensively!
OST to PST Converter Freeware Download
OST and PST files are one of the most complex data files than the rest. And not only they are complex but also used in different context and are dissimilar to each other to a huge extent.
This makes converting OST to PST files a nightmare.
Before we talk about the best OST to PST converter, we should have a little introduction about the nature of these files.
Offline Storage Table (OST)
OST is short for Offline Storage Table, which is a functional and internal file of Outlook to store data, allowing users to access data even offline. Whenever any changes are made, Outlook will sync them once the connection is back up. The important thing is to be noticed that the OST cannot be used for manual purpose. It is not an data archiving file, import/export file, or data migration file.
For all those purposes, there's PST, short for 'Personal Storage Table'. Although, you can use PST in place of OST (through Outlook options), but you don't be able to sync data seamlessly across local Outlook and your mail servers. PST is more suited for data backup/archive, import/export, and migration. That's why it has "personal" in its name.
The problem with OST is that it can become inaccessible, due to corruption or other manual mistakes (like deleting the original email account the file associated with before the data was synced to the servers). In such cases, you cannot get the data in them restored back to Outlook. The only way forward is to convert them to PST.
OST to PST Converter Freeware
And that's where this post comes in. Many of the OST to PST converter freeware solutions are not up to the task. They don't take care of everything stored inside the OST files, like images, attachments, folders, nested emails, headers, and so on. What you end up with these generic file converters is files that are partially converted. These flaws are technically called data integrity, simple meaning that the input (OST) doesn't match the output (PST).
And that's not even all. Even if a tool can convert the data extensively (which doesn't happen often), they are incredibly hard to use, limited by their number of options, no tech support from developers, and many other challenges that can be hard to overcome.
The Best OST to PST Converter
If you are here looking for the best OST to PST converter freeware download, you will be happy to know that "OST Extractor Pro" is what you need. It is available for free trial version below. And you can install it within few minutes and start without any problems.
OST Extractor Pro – It Works on Mac & Windows and converts OST to MBOX, EML, PST, Mac Mail, Thunderbird, Postbox, Win Live Mail etc.
All the problems about usually linked with this job can eliminate successfully by "OST Extractor Pro". It has smart interface and advanced algorithms. Built by USL Software, the tool finally provides the much needed relief.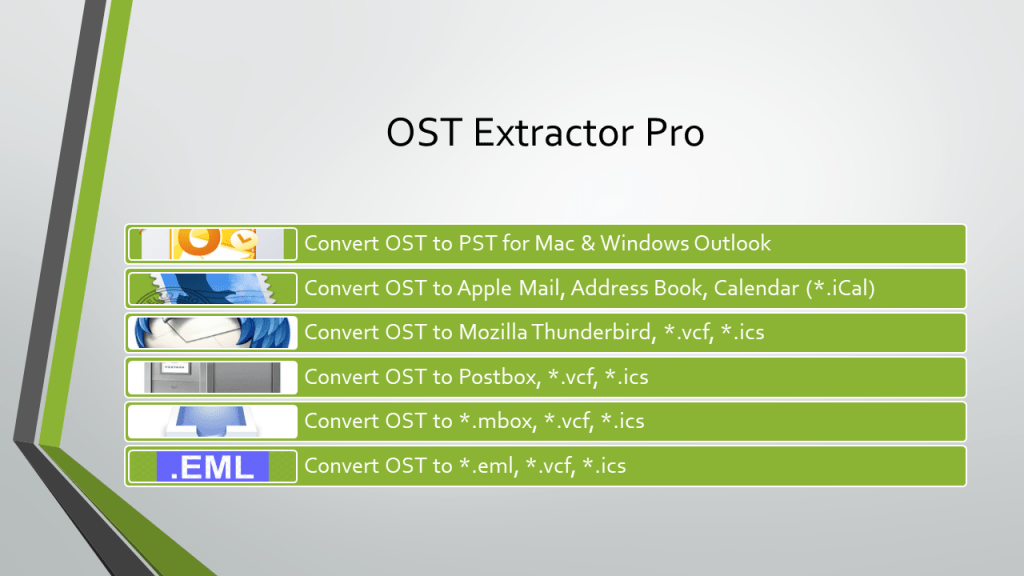 It also allows for splitting large PST files, if your database is huge. This option is very important for many users and yet missing in a large majority of OST to PST converters. But with this, you can now set your desired limit for the converted PST files and the tool automatically creates additional files if required to keep their sizes in check.
OST to PST Converter Freeware Download to Try
Do not wait any longer. Download the setup file today!
Download now at https://www.ostextractorpro.com/.
And if you face any problems or have queries, you are not alone in getting around them. Contact the tech support and have them resolved immediately.
OST to PST Converter freeware download for trial purpose only and after evaluation you can purchase full version.